~Facts~
The groundbreaking ceremony was held on October 28, 1961, the day Governor Nelson Rockefeller signed legislation that paved the way for the construction of William A. Shea Municipal Stadium in Flushing Meadows. The stadium officially opened for baseball with the Mets against the Pirates on April 17, 1964. Prior to the opening of Shea, the Mets played their home games at the Polo Grounds in Manhattan, once the home of the New York baseball Giants.

Location: 126th Street and Roosevelt Ave., Flushing, New York
Seating Capacity: 55,601
Dimensions:
Left Field Line: 338 feet
Centerfield: 410 feet
Right Field Line: 338 feet
Power Alleys: 378 feet
(The outfield fence is eight feet high)
Shea Stadium Firsts
Game: April 17, 1964. Pirates 4, Mets 3. (WP-Bob Friend, LP-Ed Bauta)
Batter: Dick Schofield, Pirates. (popped out to second baseman Larry Burright)
Mets Batter: Tim Harkness. (grounded out to shortstop Dick Schofield)
Hit: Willie Stargell, Pirates. (second inning homer off Jack Fischer)
Mets Hit: Tim Harkness. (third inning single off Friend)
Single: Bob Bailey, Pirates (second inning off Fischer)
Double: Ron Hunt, Mets (fourth inning off Friend)
Triple: Roberto Clemente, Pirates (sixth inning off Jerry Hinsley 4/18/64)
Mets Triple: Jesse Gonder (first inning off St. Louis' Ernie Broglio 5/8/64)
Mets home run: Ron Hunt. (eighth inning off Chicago's Dick Ellsworth 4/23/64)
Stolen Base: Joe Christopher, Mets. (sixth inning, Pirates, 4/19/64)
Strikeout: Robert Clemente, Pirates. (first inning against Fischer 4/17/64)
Walk: Jim Hickman, Mets. (second inning against Friend 4/17/64)
Hit Batter: Jim Hickman, Mets (fourth inning against Friend 4/17/64)
Wild Pitch: Larry Bearnarth, Mets (fifth inning, Cincinnati, 5/6/64)
Error: Bill Mazeroski, Pirates. (sixth inning 4/17/64)
Mets Win: April 19, 1964. Mets 6, Pirates 0. (WP-Al Jackson, LP-Bob Veale)
Shutout: Al Jackson, Mets. (Mets 6, Pirates 0, 4/19/64. six-hitter)
Night Game: May 6, 1964. Reds 12, Mets 4.

people have visited this Shea page!

The Home of the Mets: Shea Stadium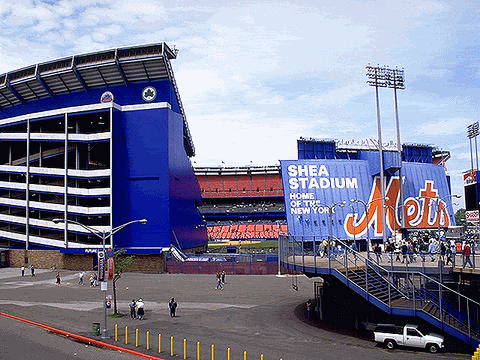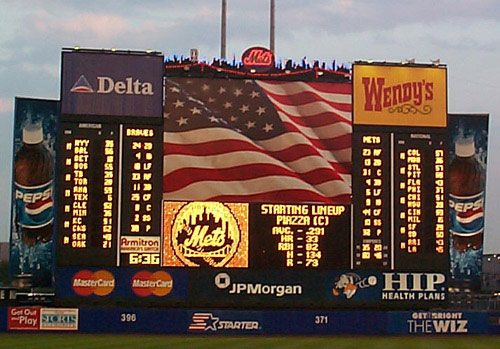 Ticket prices:

Metropolitan Club $35
Inner field/loge box $24
Outer field/loge box $21
Mezzanine box $15
Loge reserved $18
Mezzanine reserved $9

Pictures of Shea Stadium
Shea Stadium is a decent place to see a ball game. The giant scoreboard in right center field is one of the best in baseball, showing scores around the league, batting orders for both teams, as well as balls, strikes, and outs. There is also a huge Sony DiamondVision TV in left-center for replays and individual batter statistics. If you are fortunate enough to be there when a Mets batter hits a home run, a "big apple" appears out of a hat just beyond the fence in centerfield. Considering that Shea was built as a multi-use park (the Mets used to share it with the NFL's Jets before the Jets followed the Giants to the Meadowlands in New Jersey) it has somewhat of a baseball-only feel to it now. Unfortunately, the outfield dimensions are completely symmetrical, as is the height of the outfield fence.
There are four levels of seating down each foul line and behind home plate, as well as a small bleacher section overlooking the opponent's bullpen in left center field. The field-level box seats offer the best view, as well as your best chance at snaring a foul pop up. Most of the second- and third-level seats on the first base side offer some afternoon shade, as do the the very back rows of those levels all the way around the diamond. The downfall of those back-row seats is that you tend to lose sight of towering fly balls and the odds of a foul ball coming your way are slim. --
E-mail me with any questions or comments.