Welcome to Ray's NY page!

METS NEWS: (as of 5/6/05)
5/5: Mets 7, Phillies 5
WP: Heilman (3-2)
LP: Padilla (0-4)
NEW YORK (AP) -- Kris Benson and Mike Cameron made their 2005 debuts, Mike Piazza ended a long slump with a big day and David Wright got the key hit after shattering his bat in frustration.
The New York Mets' 7-5 victory over the Philadelphia Phillies on Thursday was the type of game they dreamed about during the offseason. For the first time this year, all their regulars were available.
``You have a good feel of where you can go from there,'' manager Willie Randolph said. ``Everyone making a contribution and the fact that we, for the first time all year, had most of our guys here, is just really encouraging.''
In a 1-for-21 slide coming in, Piazza had four hits, including a three-run homer off Tim Worrell in the eighth that put New York ahead 7-2. Piazza, who raised his average from .198 to .231, said teammate Doug Mientkiewicz told him during Wednesday night's game not to get discouraged, that there was plenty of time left. Those remarks helped the 11-time All-Star to relax.
``I don't want to say I was feeling sorry for myself, but I was close to it,'' said Piazza, who had a big day on the first anniversary of his surpassing Carlton Fisk for the career record for home runs by a catcher.
Piazza's homer turned out to be important because Jimmy Rollins hit a three-run shot off Mike DeJean in the ninth before Braden Looper struck out Pat Burrell with a runner on for his sixth save, his second in less than 24 hours.
Wright split his bat against the ground after striking out with the bases loaded in the third inning, then broke a 2-all tie in the fifth with a two-run double off the right-center field fence following an intentional walk to Mientkiewicz.
``I just relaxed a little more,'' Wright said.
He was a bit embarrassed about breaking the bat.
``You want to play with emotion, but you try not to let it show that much,'' he said. ``You ought to do it in the tunnel somewhere, not down on the field.''
On the disabled list since the start of the season because of a strained chest muscle, Benson allowed two runs and five hits in 4 2-3 innings, wasting a 2-1 lead when he grazed Burrell with a pitch with the bases loaded in the fifth.
Aaron Heilman (3-2) relieved for just the second time in his major league career, escaped the jam and went on to allow one hit in 3 1-3 innings, striking out five.
Cameron, the center fielder before Carlos Beltran was signed during the offseason, doubled twice and also made an error in right field when he slipped running down a single by Marlon Byrd, starting for the Phillies as center fielder Jason Michaels was rested.
Cameron didn't have a chance to reel in Rollins' homer, joking about comparisons with Cliff Floyd's leap in left to rob Michaels of a two-run shot the previous night.
``He's like 6-7,'' Cameron said, overstating Floyd's height by about 3 inches.
With Cameron back from a wrist injury, Victor Diaz was shifted to left for the first time in the major leagues and Floyd, who has a major league-high 20-game hitting streak, was given a day off.
``He's been carrying us. Maybe that's why his legs are tired,'' Randolph joked. ``That's a lot of weight.''
Vicente Padilla (0-4) gave up four runs and eight hits in 4 1-3 innings. He had been 9-1 against the Mets before a 16-4 loss on April 19.
``I think Padilla had better stuff, had a better fastball,'' Phillies manager Charlie Manuel said. ``Every game, he seems to be getting better. I think when we get his arm strength up, when we get his work up, he's going to be OK.''
Worrell's ERA increased to 9.82 as the last-place Phillies fell to 12-17.
``I feel like I'm not helping out at all. The one thing is that I can make any game interesting. I could make a 10-1 game interesting right now,'' Worrell said. ``I don't think anywhere in my career I've struggled for six, seven weeks like this.''
New York took a 2-0 lead in the second on run-scoring doubles by Mientkiewicz and Diaz. Rollins stole second and third in the third, then came around when Benson bounced a wild pitch.
``It's something Charlie brought up today. You've got to go out there with the proper attitude,'' Rollins said. ``You got Benson pitching and Piazza behind the plate, that's a formula to run.''
Philadelphia tied it in the fifth. After Rollins blooped a single behind shortstop Jose Reyes that Beltran should have caught, a walk to Chase Utley loaded the bases with one out. Bobby Abreu popped out, but Benson hit Burrell with a 1-2 pitch.
Heilman, slated to start Monday in Chicago, then came in and retired David Bell on a comebacker.
``He's probably been the most pleasant surprise,'' Randolph said.
Notes
The Phillies said test results showed 1B Jim Thome, put on the DL this week, has a strained lower back and should be able to play in about two weeks. ... Utley also swiped a base against Piazza, who has thrown out just four of 27 basestealers this season. ... Heilman's other relief appearance was against Philadelphia on Aug. 31, 2003. ... New York's Marlon Anderson got his ninth pinch-hit (9-for-16), tops in the majors.
Next game:
AT

Date: Friday, May 6th, 2005
Time: 8:05 P.M. ET
Location: Miller Park, Milwaukee, Wisconsin
TV/Radio: FSN New York/WFAN
Pitchers: Victor Zambrano (1-3, 5.81) at Doug Davis (3-3, 4.79)


 

E-mail: raystaley@adelphia.net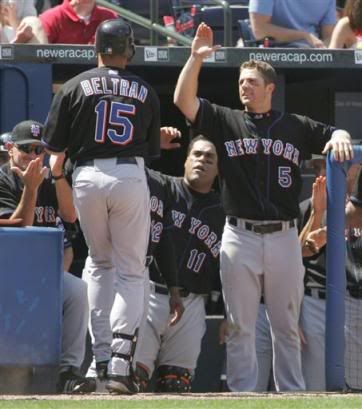 ..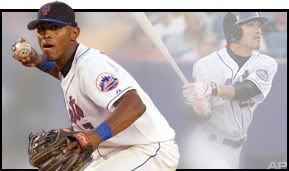 My New York sports message board....come sign up!!!!
Click here for pictures from the 2000 NLCS celebration!


Uniforms through the years


2005 Schedule and Results


2005 Roster


All-Time Transaction List (1961-2005)


Final 2004 standings


Candidates for the All Star Game; '62-'04.


Interactive Mets Stats!


Click here to order Mets tickets online from Mets.com!


Click on the picture of Shea to go to my Shea Stadium info page.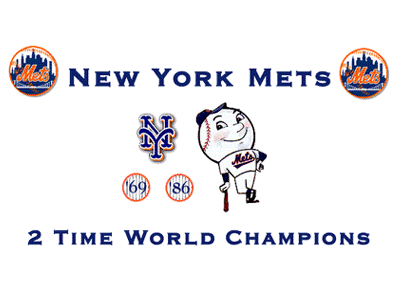 '69 World Champs - '73 National League Champs - '86 World Champs - '88 Eastern Division Champs - '99 Wild Card Champs - '00 National League Champs

YankeesSuck.com
Page created by: Ray
Page last updated: May 6th, 2005, 12:10 AM
This page is best viewed in Microsoft Internet Explorer v6.0