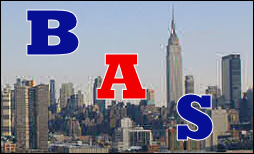 View Our Guestbook
Sign Our Guestbook
Website created and maintained by Ray (Co-Admin and Webmaster for Big Apple Sports).
Last Updated: 2/17/06 at 3:50 P.M. EST.
---









National







Click the banner to go directly to our message board!
Welcome to the headquarters for the die-hard New York sports fan! We offer links to all your favorite teams, Metropolitan-area media outlets, and an active message board to discuss what's happening in the world of New York sports!
Look around, sign the guest book, and join the boards to start talking sports!
---

Big Apple Sports was started on January 29th, 2004 to provide a place where the diehard fans of New York sports can come and talk about their favorite teams without worrying about what they say or how they say it. It all started on the boards of MSGnetwork.com around the year 2001 or so, and a core of posters developed that stayed together throughout multiple banishments and moves to different boards. After the New Year of 2004, we finally got fed up with having too many rules and being banned for stupid reasons, so we joined up at another metropolitan sports board. That board eventually got shut down so we established a home at BAS where we still remain today. We've since created a website (what you're looking at now), a chat room, and established connections with other popular sports websites and/or message boards. We thank you for stopping by to check us out!